Daredevil #93

| | |
| --- | --- |
| Title : | "The Devil Takes a Ride: Conclusion" |
| Writer: | Ed Brubaker |
| Penciler: | Michael Lark/Stefano Gaudiano |
| Inker: | Michael Lark/Stefano Gaudiano |
| Cover: | Lee Bermejo |
| Colours: | Matt Hollingsworth |
| Letters: | Virtual Calligraphy's Chris Eliopoulos |
| Editor: | Warren Simons |
| Assistant Editor: | Alejandro Arbona |
| Date: | Mar.2007 |
| Cover Price: | 2.99,3.75 |

Characters

Becky Blake
Ben Urich
Dakota North
Daredevil
Foggy Nelson
Kingpin
Lily Lucca
Matt Murdock
Milla Donovan


| | |
| --- | --- |
| Daredevil #92 | Daredevil #94 |

Lee Bermejo
Volume 1 - None
Volume 2 - 88 89 90 91 92 93 100 114
Volume 3 - 8
Volume 4 - None
Volume 5 - 15
Volume 6 - None

Issue Summary
Summary by Samuel Johnson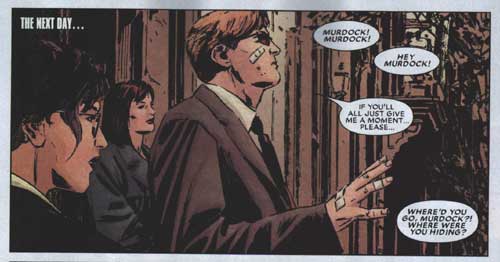 In Upstate New York, two motorists find a dazed Matt Murdock walking blindly down a motorway. At his new office, "Everett Williams" hears the news of Matt's return.
The next day, Matt holds a press conference outside his apartment in New York City, where he explains how the Punisher held him in the hope of gaining details of criminals Matt had represented, and then freed him when he learnt Matt had been "framed". Back inside with Milla, Matt senses something, and, saying "That's not possible," comes face to face with Foggy.
Two days later, Matt reads Vanessa Fisk's obituary. In the midst of "Framegate" the FBI's charges against Matt are dropped and he regains his licence to practice law. He and Foggy decide to go into business with Becky Blake. As Kingpin's attorney, Matt has the charges against Kingpin dropped, although he loses U.S. citizenship and leaves the country. A conscience-stricken Daredevil tells Foggy he doesn.t know if Kingpin will return to his old ways; losing someone you love changes you. Matt still misses Karen, which is why Lily was able to affect him so greatly.
In London, Lily boards a flight to New York City...